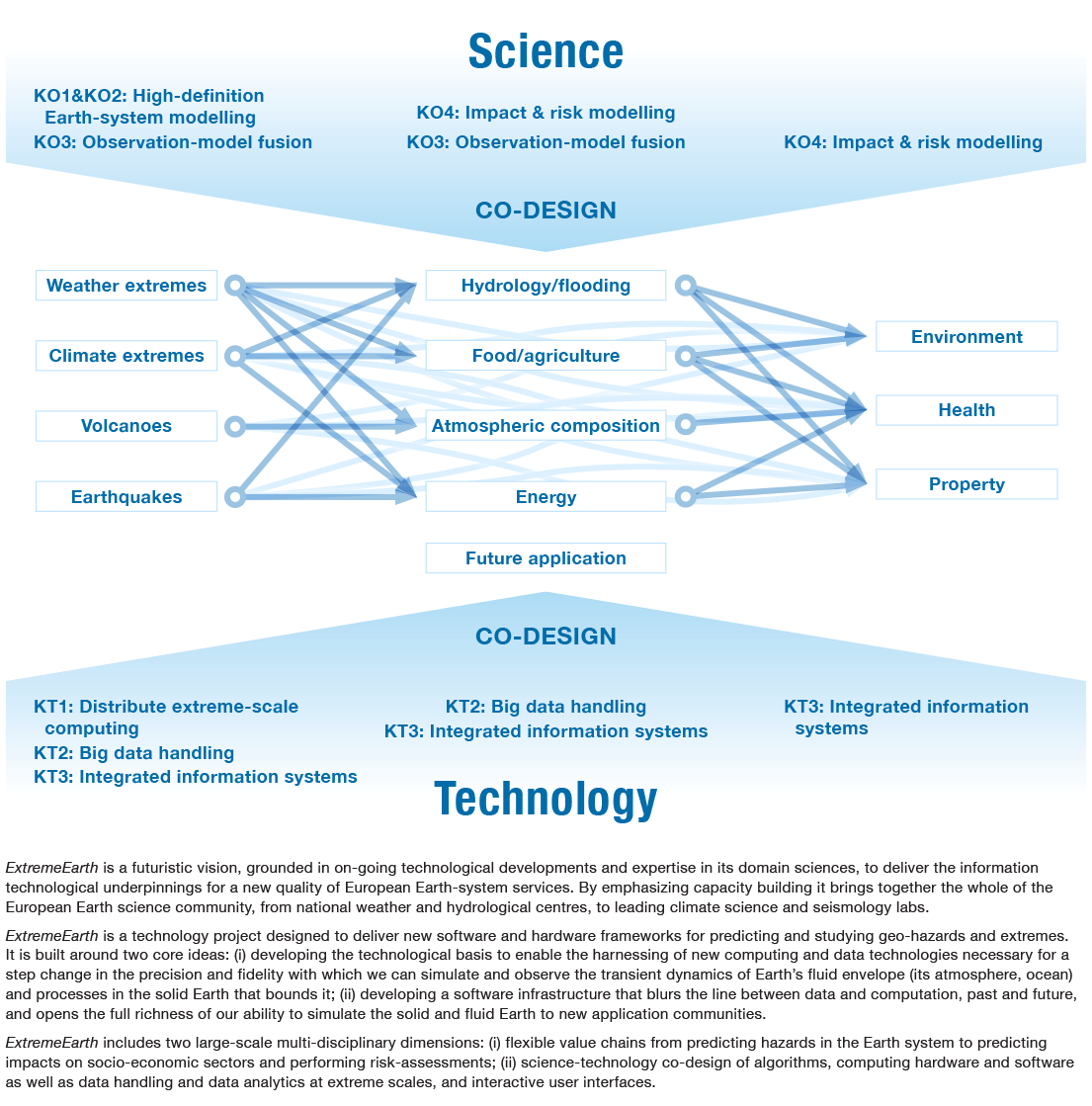 Not only will ExtremeEarth offer a break-through in our ability to simulate and predict extreme events, it will radically change the way in which this information is made available to society. This break-through will be achieved by developing science-technology solutions delivering unprecedented levels of predictive skill for extremes as well as their potential consequences for society. For the first time, we will have reliable, impact-oriented forecasts at scales that are relevant for decision-making in countries, regions, coastlines, cities.
ExtremeEarth radically deviates from the traditional impact assessment approach, in which individual, disconnected communities operate downstream of Earth–system modellers and use selected outputs as inputs to their own risk models. ExtremeEarth will implement a fully integrated science-impact value chain allowing users to optimally extract information from Earth system models and observations within time critical decision-making paths. Users will be able to interact at all stages with data and simulations on the desired level of complexity. These capabilities define the four ExtremeEarth Key Objectives (KO): High-definition modelling capabilities of the fluid envelope and solid Earth enabling a step-change in our capability to predict extremes, the fusion of models and observations for a wholly new view on the Earth system, and to link fundamentally new capabilities for simulating and predicting extremes along with their impacts across value chains and render such services accessible to all communities.
These key objectives can only be realized by a substantial investment in technology. Again, ExtremeEarth deviates from traditional thinking by focusing on domain-specific and away from general-purpose technologies. This is necessitated by the fact that the computational requirements for realizing the scientific advances are way beyond what will be achievable from incremental progress through broad-market solutions. Here, software development is a crucial component of ExtremeEarth technologies. ExtremeEarth is proposing an investment into three Key Technologies (KT): distributed extreme-scale computing, big data handling and an integrated information system. ExtremeEarth will hide the scientific and technological complexity as much as needed away from the user, and still enable the user to employ the best science and impact models running on the best technological solutions.
Socio-economic benefits
While forecasts of weather and climate have improved significantly over recent decades, Europe continues to suffer billions of Euros of damage from extreme events every year. First, many damages occur because current forecasting systems do not predict the (i) precise location and (ii) actual impacts of extreme events with sufficient reliability and lead time to allow for proactive management. Second, poor models of long-term disaster risk result in damages that could have been avoided through targeted investments in safe buildings and infrastructure. Further, ExtremeEarth is expected to narrow down uncertainty in how circulation patterns will change because of human greenhouse gas emissions. The value of early and better information about the transient climate response will allow to optimize the long-term socio-economic trajectories, and avoid the additional cost of delayed actions [1].
ExtremeEarth will contribute to both short-term preparedness as well as long-term resilience building. For short-term warnings, ExtremeEarth will allow producing forecasts of the socio-economic impact of extremes with sufficient location and information detail, so that crisis managers can tailor their preparations to manage evacuations, protect critical infrastructure, deliver medical support, water and relief to the areas that need it most. Current early warnings have reduced the number of casualties by thousands around the globe and the economic benefits of early warning systems run into many billions [2] – with a huge potential for improvement.
With sufficient lead-time, vulnerable people can be evacuated and assets be moved while stockpiles of relief supplies can be assembled already in advance of the event, further reducing the number of casualties and the recovery time after the actual event and increasing the resilience. This contributes to the Priorities for Action of the Sendai Framework for Disaster Reduction [3] and the EC action plan [4] including the priorities on understanding all dimensions of risk, strengthening disaster risk governance, investing in disaster risk reduction for resilience, and enhancing disaster preparedness for effective response. ExtremeEarth will provide timely and accurate Earth-system information that is prerequisite to the proposed pan-European disaster risk prevention framework and response mechanisms to be developed under the ambitious European Scale rescEU framework [5]. 
When planning for the coming decades, governments and private sector companies need detailed projections on (i) the expected impacts of extremes on our economies and societies over the coming decades; (ii) the measures to reduce damage, and (iii) their cost. The cutting-edge Earth-system modelling capabilities developed in ExtremeEarth will provide this information at the required resolution and accuracy, enabling substantial progress in overall safety levels as urban and industrial infrastructures and networks are gradually upgraded or replaced.
In addition, the Earth-system technology concepts of ExtremeEarth will allow for comprehensive assessment of the benefits of proposed climate change adaptations, such as large-scale land use changes, re-forestation, re-greening degraded lands and restauration of wetlands and sustainable urban drainage systems, potentially attractive options to sequestrate carbon, mitigate the effects of droughts, and protect areas against flooding. With such information, ExtremeEarth will strengthen EU leadership in the highly connected global community to grow to a low carbon global economy by providing the capabilities for more evidence-based policymaking. ExtremeEarth will thus contribute to the 5-year global stocktaking assessment of the Paris climate agreement and provide major contributions to IPCC's good practice on greenhouse gas and climate impact reporting under the UNFCCC.
ExtremeEarth-PP will allow assessing the quantitative socio-economic impact potential together with relevant stakeholders in a dedicated work package to provide estimates of the return on investments.
Industrial support and European competitiveness
The race for leadership in HPC systems is driven both by the need to address societal and scientific grand challenges more effectively, such as preventing large-scale catastrophes, and by the needs of industry to innovate in products and services. The industrial landscape continues to undergo dramatic changes following the digital revolution including the adaptation to robotics, artificial intelligence, and big data analytics techniques.
ExtremeEarth will be both a beneficiary of the changing digital environment and a contributor to ongoing change. ExtremeEarth's initial industrial impact provides a boost to a relatively small, but quintessential European HPC industry (e.g. ATOS/Bull). To this end, ExtremeEarth will provide a competitive advantage for the market of HPC systems specifically developed for environmental forecasting centres, including the combination of HPC, modern sensor technology, new visualisation technology and big data. Beyond HPC, the full integration of computing, data and cloud technologies is already on the horizon, but the scale foreseen in ExtremeEarth is unprecedented and takes a crucial application perspective not seen by current major commercial cloud providers. This will result in a major competitive advantage to applying generic technology in other sectors. It will further boost a growing market of larger technologically advanced industries working in applications of high definition forecasts, e.g. in the food and energy sectors (e.g. Bayer Crop science and ARCADIS). The ExtremeEartScienceCloud will give the technologically advanced industries unprecedented access to accurate forecasted products of Earth-science related hazards and their impacts.
ExtremeEarth will also change the services delivered by the research institutes involved. Researchers currently target their scientific expertise to inform the society on (changes in) weather, climate, associated extremes and geo hazards. The capabilities ExtremeEarth will develop will move away from more assessment-focused research outputs towards research that develops actual services. The co-design process ensures that these will be developed in collaboration with environmental researchers, applied research institutes, SME's and engineering companies alike, who can each can test their innovations on the platforms that ExtremeEarth will develop.
ExtremeEarth is a game-changer that will establish the competitiveness of the European climate services sector, which will become unique in its ability to combine exposure and vulnerability information with weather, climate and geo-hazard information, identifying hotspots of risk that require pro-active investment.
We are only beginning to comprehend the opportunities afforded by this investment, but ExtremeEarth-PP will specifically flesh out scenarios and trajectories in this impact area by reducing risk, developing industry and sparking off new applications and services. 
[1] https://www.ncbi.nlm.nih.gov/pubmed/26438286
[2] http://www.unisdr.org/files/3612_GlobalSurveyofEarlyWarningSystems.pdf
[3] http://www.unisdr.org/files/43291_sendaiframeworkfordrren.pdf
[4] https://ec.europa.eu/echo/news/european-commission-launches-sendai-action-plan-disaster-risk-reduction_en